Nahdlatul Ulama,
Traditional Islam and Modernity
in Indonesia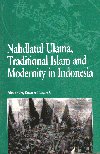 Edited by Greg Fealy and Greg Barton
Published by Monash Asia Institute
This is the first English-language book on Nahdlatul Ulama (NU), Indonesia's largest Islamic organisation and also one of its least studied. Founded in 1926 to defend the interests of traditional Islam, NU has had a tumultuous history as both a political party and a socio-religious organisation. Its behaviour has frequently been enigmatic.

The contributors: (left to right) Andree Feillard, Greg Barton, Martin van Bruinessen, Mitsuo Nakamura, Greg Fealy and Douglas Ramage.
This book with its collection of articles ranging from the historical to the contemporary, seeks to explain key aspects of NU's ideology and behaviour. These include the nature of its traditionalist doctrine, religio-political thought, relations with the state and internal power structures as well as its responses to change and modernisation. The six authors have all studied NU closely and their findings represent a substantial contribution to scholarly understanding of this organisatioon. Nahdlatul Ulama, Traditional Islam and Modernity in Indonesia will be of considerable value to those interested in Indonesian political history and Islam.
Monash Asia Institute
Monash Paper on Southeast Asia No. 39